Photo by Roger Smith at Godaido Temple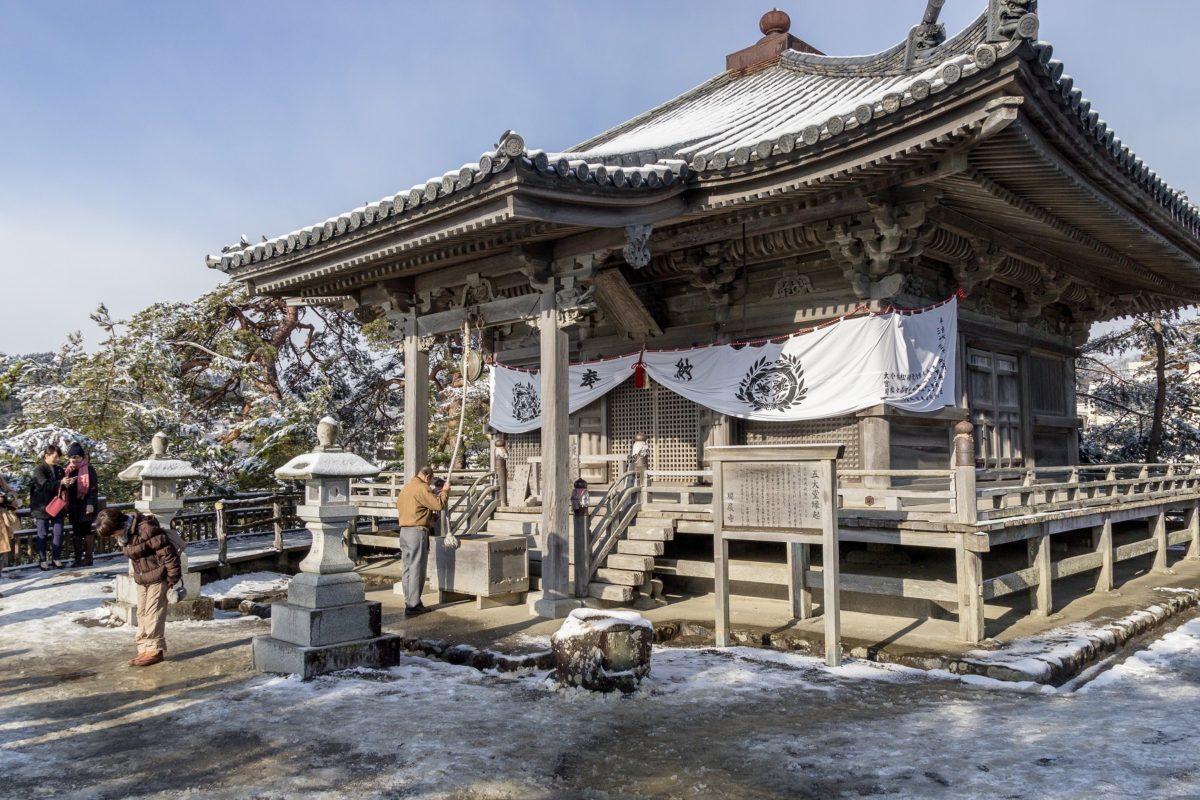 Photo by Sanicha Yaklai at Shifukuji Temple

Photo by Ryuma Kanaya at Akiu Traditional Craft Village

Looking for ways to make the most of your precious vacation time? Rouse your inner early bird and wake up early to enjoy morning-only sights, like seafood auctions and spectacular sunrises. Being out and about early also gives you the chance to see popular sightseeing spots in an entirely different light—peaceful and quiet, with nary a tourist in sight.
Catch a stunning sunrise
Miyagi lies on the east coast of Japan, blessing the prefecture with beautiful sunrises over the Pacific Ocean every morning. They're especially majestic over Matsushima Bay, with the rising sun dramatically silhouetting the bay's iconic islets. One of the best easily-accessible vantage points to watch a Matsushima sunrise from is Saigyo Modoshi no Matsu Park, a hillside park overlooking the bay.
Farther north, in the Sanriku Coast area, lies Onagawa. It is a charming town nestled along an inlet of Onagawa Bay, where the sun rises piercing and brilliant on clear days, or mystical and enshrouded in fog on cloudy ones. The second floor of Onagawa Station features an open-air deck—a convenient place to watch the sunrise no matter what the weather.
Roger Smith at Saigyo Modoshi no Matsu Park

Energize with a cup of matcha at a traditional teahouse
Kanrantei is a samurai-era teahouse that overlooks the iconic Matsushima Bay. What could make for a sweeter morning pick-me-up than enjoying some matcha green tea and traditional wagashi sweets while gazing out at the sparkling waves?
Roger Smith at Kanrantei Tea House

Watch a seafood auction at a fish market
Miyagi Prefecture is one of the most powerful players in Japan's fishing industry: Shiogama Port lands the biggest catch of maguro tuna in all of Japan, and Kesennuma Port is Japan's top producer of shark, swordfish, and katsuo. The fish markets are at their most lively early in the morning, with ships landing their catch and trading at a rapid pace. Get to the market early and your effort will be rewarded with a front row view at some of Japan's most important seafood auctions!
Wesley Keppel-Henry at Shiogama Fish Market

Savor a breakfast of the freshest seafood
Early morning is when fishing boats bring in their catch, so the earlier and closer you eat to a fishing port, the easier and cheaper it is to enjoy seafood landed just that morning. Many of the markets at fishing ports in Miyagi have on-site eateries where where visitors can purchase a fresh-off-the-boat breakfast on the cheap, featuring otherwise expensive delicacies like tender maguro tuna and crisp abalone. My Kaisendon at the Shiogama Wholesale Seafood Market is breakfast and a fish market shopping experience rolled into one: pick up a bowl of rice at the service counter, then trawl the market stalls looking for just the right morsels to top your rice with. For those who prefer their seafood cooked, buy whatever you like at the market and cook it up on the DIY grill located just outside.
Shiogama Seafood Wholesale Market

Explore the ruins of Aoba Castle
The site where Masamune Date's castle once stood is one of the most-visited sightseeing spots in Sendai City. It has a park-like atmosphere and is open twenty-four hours a day. Morning is one of the best times to visit—not only can you enjoy the commanding view of Sendai City bathed in soft morning light, it's also a chance to snap some photos of the site's famous Masamune Date statue without having to worry about photobombs. Going early means the buses might not have started their routes for the day yet, but no matter—walking the winding approach, castle foundations looming into sight as you round the twists and turns of the path, makes a visit here feel all the more adventurous.
Yu-An Wang at Aoba Castle

Discover true tranquility at a temple or shrine
Japanese shrines and temples are admired the world over for the atmosphere of peace and tranquility they exude. Experience that feeling at its purest by visiting in the morning. It's a time of day when you're more likely to encounter a shrine maiden than another tourist. Hear the chanting of sutras float through the temple grounds as monks perform their morning rituals. Nearly all of the temples and shrines in Miyagi are open by nine; those that welcome visitors from around dawn include Shiogama-Jinja Shrine, Kanahebisui Shrine, Shifukuji Temple, and Seiryoin Temple.
Roger Smith at Entsuin Temple

Visit an artisan's workshop and make a traditional craft
Spend a relaxing morning at a traditional craft workshop and you'll leave with not only memories, but also a one-of-a-kind traditional item handmade by you. At Sakurai Kokeshi in Naruko Onsen, you can paint your own design onto a blank kokeshi doll carved by an award-winning artisan. Near Akiu Onsen you'll find the Akiu Traditional Craft Village, home to the workshops of early-rising artisans who offer crafting experiences ranging from chopstick lacquering, to wood carving and beyond. Visitors who would buy rather buy an item made by a master than attempt making their own are of course welcome too—traditional craft workshops introduced on Visit Miyagi welcome browsing any time during their business hours.
Sanicha Yaklai

Stroll in scenic urban nature
As Sendai's nickname "City of Trees" implies, there are plenty of spots for a refreshing morning stroll surrounded by lush greenery in the capital. Jozenji-dori Avenue is the most famous—a tree-lined boulevard in downtown Sendai that's a hub of culture. Come in the morning to watch the city wake from its slumber as you take in the sculptures by Emilio Greco that line the boulevard. Depending on what time of morning you come, shops and cafes along the street may be open, offering treats like roasted chestnuts and asa-ra breakfast ramen.
Sendai isn't the only Miyagi city with pleasant spots for a morning stroll. Hiyoriyama Park in Ishinomaki offers sweeping views of the city and sea beyond. Millennium Hope Hills in Iwanuma is a spacious park of ingeniously engineered grassy hills, located just a fifteen-minute walk from Sendai International Airport. There's also the Hitome Senbon Zakura in Shibata and Ogawara—though at its most spectacular in spring when the cherry blossoms are in bloom, the riverside path here makes for a pleasant morning stroll any time of year.
Natasha Fox at Hiyoriyama Park

Last Update
October 29, 2021


Counting stay-in pleasures like a soak in natural hot springs at one of the many onsen hotels in Miyagi, and wilderness adventures like a dawn hike along one of the prefecture's many trails, the possibilities of morning become virtually endless. Whether you're an ambitious traveler wanting to pack in as much as possible during your visit, or simply an early bird looking for a new way to enjoy your favorite time of day, rest assured Miyagi has got you covered.

Matsushima Bay

Mt. Zao

Northern Miyagi

Sanriku Coast

Sendai

Tags