2020.01.20
Matsushima Fresh Sake Festival and Oyster Festival / 宮城まるごと、ほろ酔い新酒まつり&松島かき祭り
(Japanese follows after English / 日本語は英語の後にあります)
Come Savor the Winter Delicacies of Matsushima!
Matsushima, Miyagi Prefecture, is a prime tourist spot in Japan for its breathtaking sceneries, which are known as one of Three Most Scenic Spots of Japan, and for its numerous historical buildings and delicious seafood. It tends to attract more visitors during the summer, but Matsushima in the winter is no less attractive! The Miyagi Fresh Sake Festival (宮城まるごと、ほろ酔い新酒まつり) and Matsushima Oyster Festival (松島かき祭り) will be held together soon. If you are coming to Tohoku for snow or skiing, why not enrich your journey even more with superb Miyagi sake and oysters?
Miyagi Fresh Sake Festival
Date: February 1–2 (Sat & Sun), 2020
Venue: Shopping street and the hotels and ryokan inns in the Matsushima Kaigan district
How it works:
At the ticket counter, purchase the festival ticket book that contains 5 sake tickets for 1,000 yen. One ticket buys you one cupful of sake in a special sake cup called ochoko (お猪口) used specifically for this festival. This special sake cup is available for 200 yen or with one ticket. For each ticket book, a complimentary water bottle will be provided (limited to 400 bottles each day).
Matsushima Oyster Festival
Date: 10:00 – 14:00, February 2 (Sun), 2020
Venue: Matsushima Kaigan Green Square
A bowl of oyster soup will be available for 200 yen (while supplies last).
Taste other seafood and produce from the mountains! Oysters will be available for sale.
冬の松島を味わい尽くしませんか?
宮城県の松島は,日本三景の1つに数えられている風光明媚な自然,多数の歴史的建造物,また美味しい海産物で知られ,日本を代表する観光地の1つです。そして一年を通して美しい松島は,この冬の季節にもお勧めです。冬の時期,宮城のおいしい日本酒が味わえる「宮城まるごと、ほろ酔い新酒まつり」,松島の冬の風物詩「かき」が味わえる「松島かき祭り」が同時に開催されています。スキーや雪遊びに東北を訪れた際には,宮城のおいしい日本酒を味わいながら街歩き,かき祭りに参加してみませんか?
宮城まるごと、ほろ酔い新酒まつり
日時:令和2年2月1日・2日(土曜日・日曜日)
場所:松島海岸地区商店街及びホテル・旅館等
*専用チケット(1冊1000円。チケット5枚綴り)を専用チケット及び専用お猪口販売所で購入し,チケット1枚で専用お猪口一杯の日本酒と交換できます。
*専用お猪口は1個200円で購入,または,チケット1枚で交換可能。
*専用チケット1冊毎にお水(ペットボトル)を1本進呈いたします。(各日400本限定)
松島かき祭り
日時:令和2年2月2日(日曜日) 10:00~14:00
場所:松島海岸グリーン広場
*「かき汁」を1杯200円で味わえます(無くなり次第修了)
*その他海の幸・山の幸の試食コーナー,かきの販売など
Photos and PDF Materials / 写真・PDF資料
宮城まるごと、ほろ酔い新酒まつり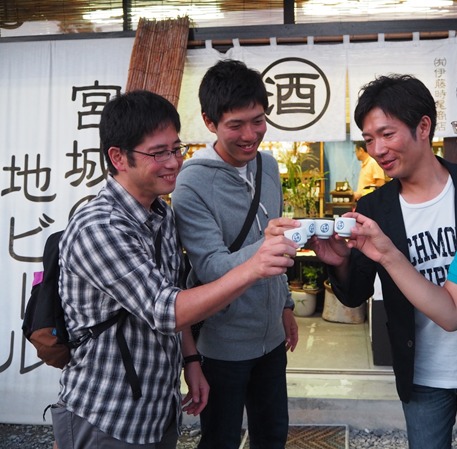 松島かき祭り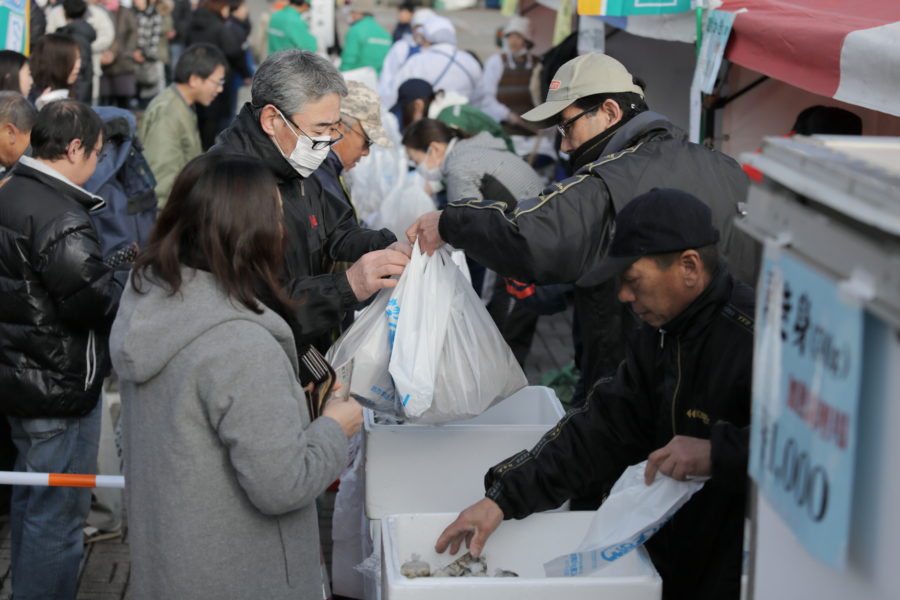 PDF資料