In the summer of 2017, Ishinomaki, Miyagi, an area which had been struck hard by the 2011 Great East Japan Earthquake and tsunami, hosted a seminal art festival. This multifaceted festival was called Reborn-Art=The Way People Live. The person behind it was Takeshi Kobayashi, a musician and producer who has been at the forefront of Japan's music scene for many years.

It has been two years since the first Reborn-Art Festival, and this summer the Sanriku region will again play host to this festival where our primordial life force resounds through contemporary art, food, and music. In the following interview, Mr. Kobayashi tells us how it all began, and what's in store at this year's festival.
An art festival in a disaster area!? How did it start?
I'm a musician and a music producer, but at the same time I have been involved in a non-profit organization called AP Bank since 2003. Following the September 11, 2001 terror attacks in New York, I got together with my mentor in the music world, Ryuichi Sakamoto, and Kazutoshi Sakurai from Mr. Children to establish a group with the goal of building a sustainable society.
We performed our first emergency-ration distribution after the 2007 Chuetsu offshore earthquake near Niigata. Then in 2011, in the aftermath of the Great East Japan Earthquake and tsunami, the connections we had cultivated allowed us to set up a volunteer base in Ishinomaki City, from which we were able to start supporting recovery efforts there in earnest.
AP Bank volunteer activities after the Great East Japan Earthquake. Photo by Reborn-Art Festival.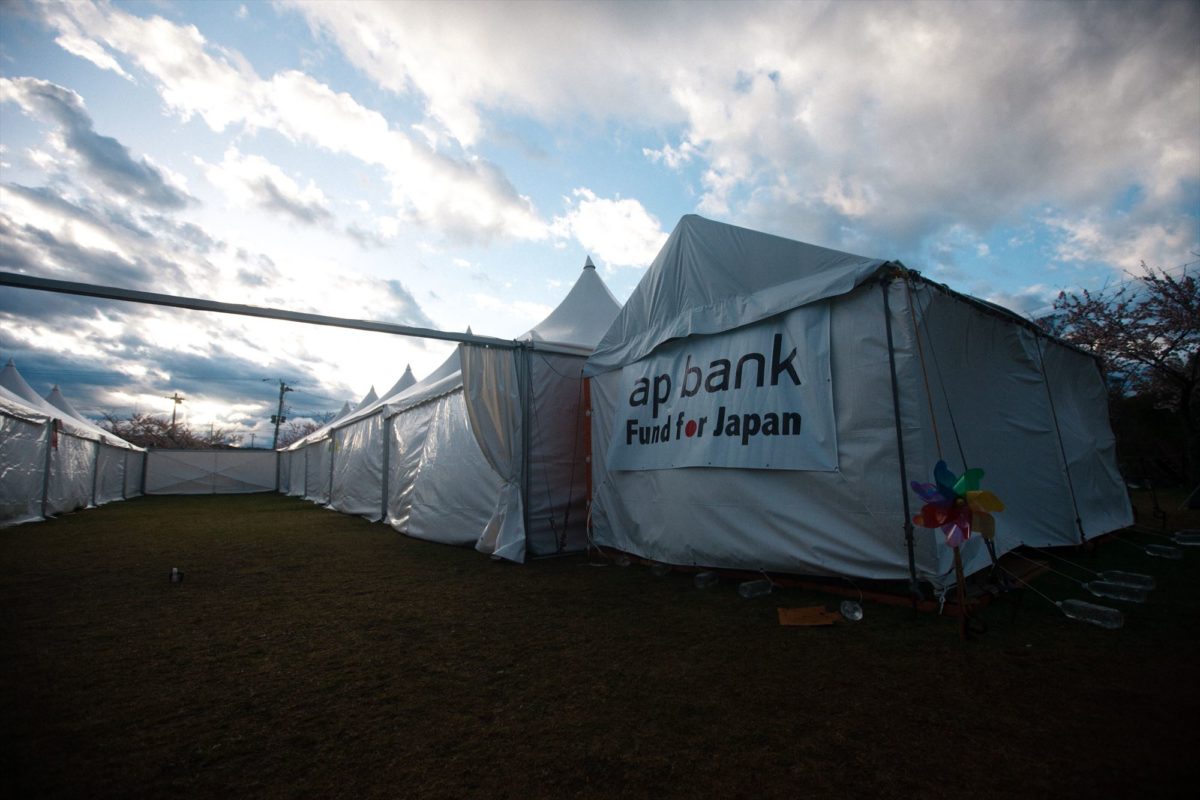 A few months after the Fukushima nuclear disaster, I was pondering the economy and people's lives. A friend told me about the Echigo-Tsumari Art Field in Niigata, so I went to see it.
There is a global trend of large cities becoming dominant and rural regions becoming impoverished, but I once met someone who told me that the world goes round thanks to the small works of people living in those countryside communities.  That person was the general director of the Echigo-Tsumari Art Field, Fram Kitagawa.
Being exposed to that way of thinking and living was the biggest impetus for the idea of hosting a similar project in Ishinomaki. That is how I came up with the idea for a multimedia art festival, blending together contemporary art, cuisine made with local ingredients, and my own specialty, music.
Example of foods offered at the first RAF. Photo by Reborn-Art Festival.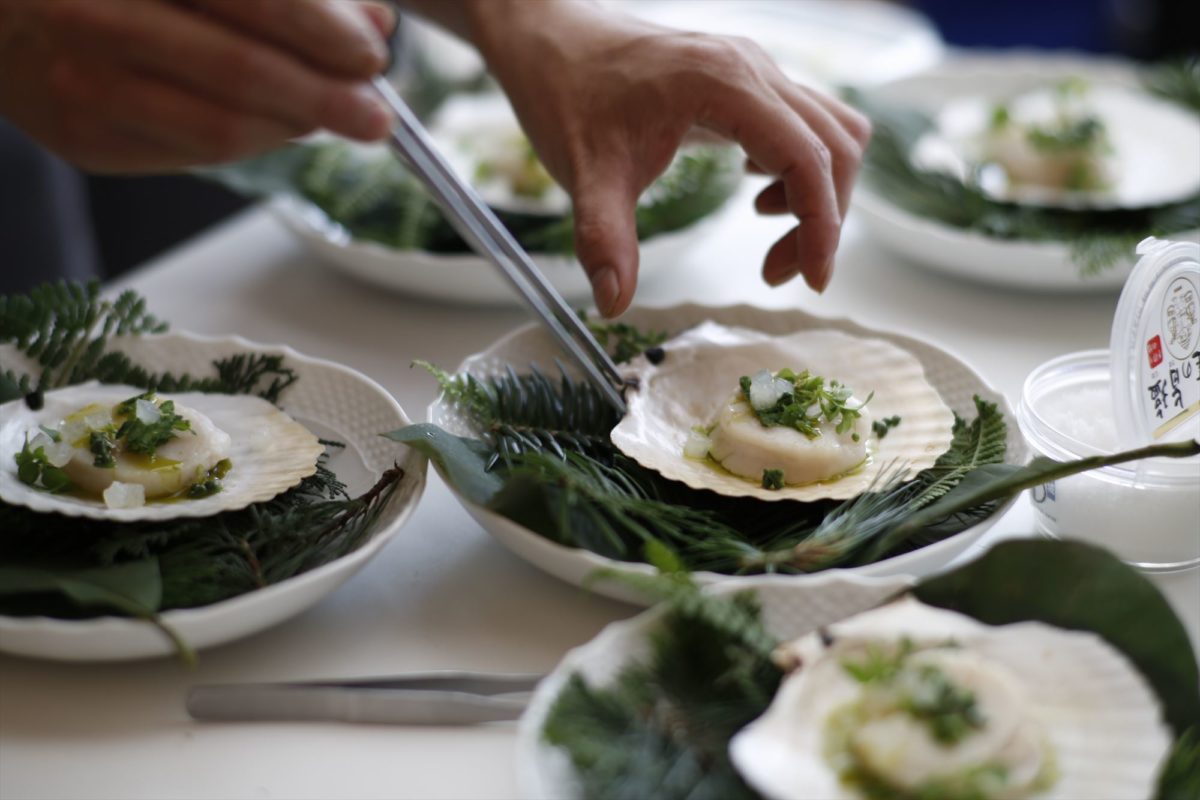 Meeting again after the disaster, once-in-a-lifetime encounters
Those natural disasters were terribly tragic events, but I felt that there was a certain natural providence to them as they set off a chain reaction causing people encounter unexpected situations.
At the last festival, there was a record-setting stretch of thirty-six days of rain starting on opening day. I think the festivalgoers might have felt they were truly encountering Mother Nature.
Due to natural disasters, the population outflux in coastal regions has accelerated. While it may be difficult to try to increase the population there, one of our big goals is still to create new encounters through the art festival. I hope it presents an opportunity for city people to experience the unique appeal of rural areas as well as a new way of living.
Takeshi Kobayashi shares his thoughts. Photo by Takeru Kasama.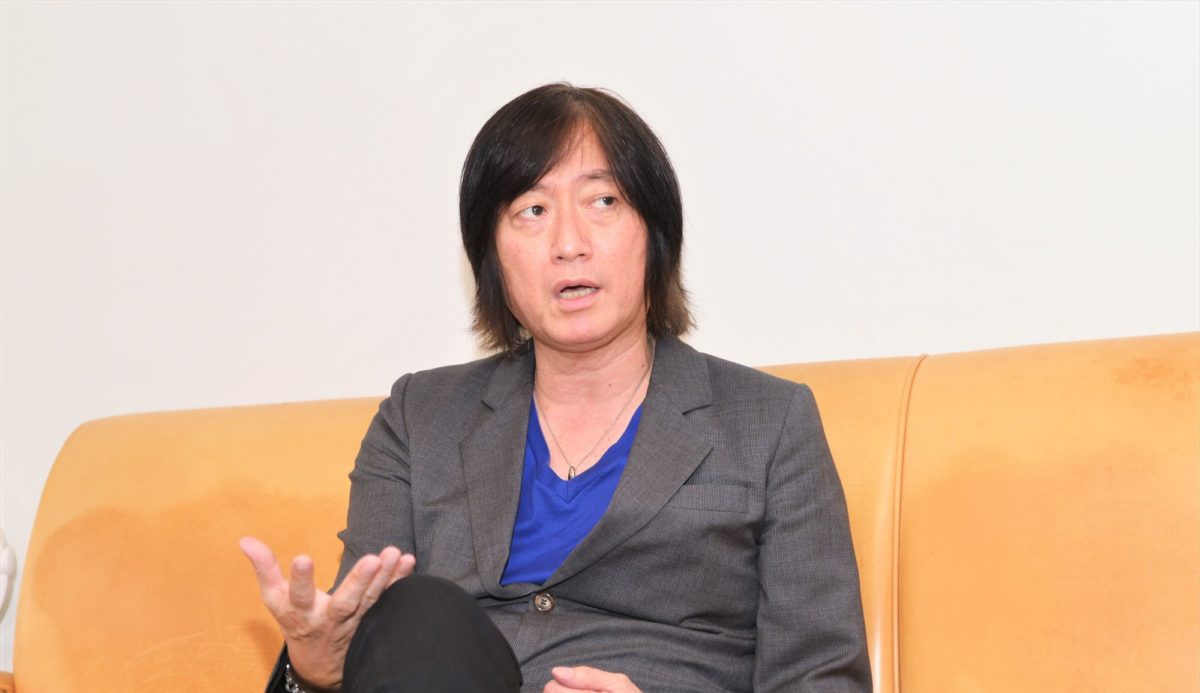 Transforming negative into positive, really experiencing the "Texture of Life"
Imagining a future which does not rely solely on economic development means thinking of new interpretations of negative and positive, as witnessed through the creation of new things in disaster-stricken areas.
The artwork titled Okosu (lit. "To Raise, To Create") by Michihiro Shimabuku, a participant at the last festival, was constructed by driving driftwood into the sand on Norihama Beach like stakes. The more I pondered this piece the greater its meaning became, and the more I wanted to ask artists like him to take the next step.
As I engaged in dialogue about this project, the theme I settled on was "Texture of Life"—an expression I often use when I want to express the true experience of living. Once the theme was decided, everything else seemed to fall into place.
Okosu by Michihiro Shimabuku at Norihama, 2017. Photo by Reborn-Art Festival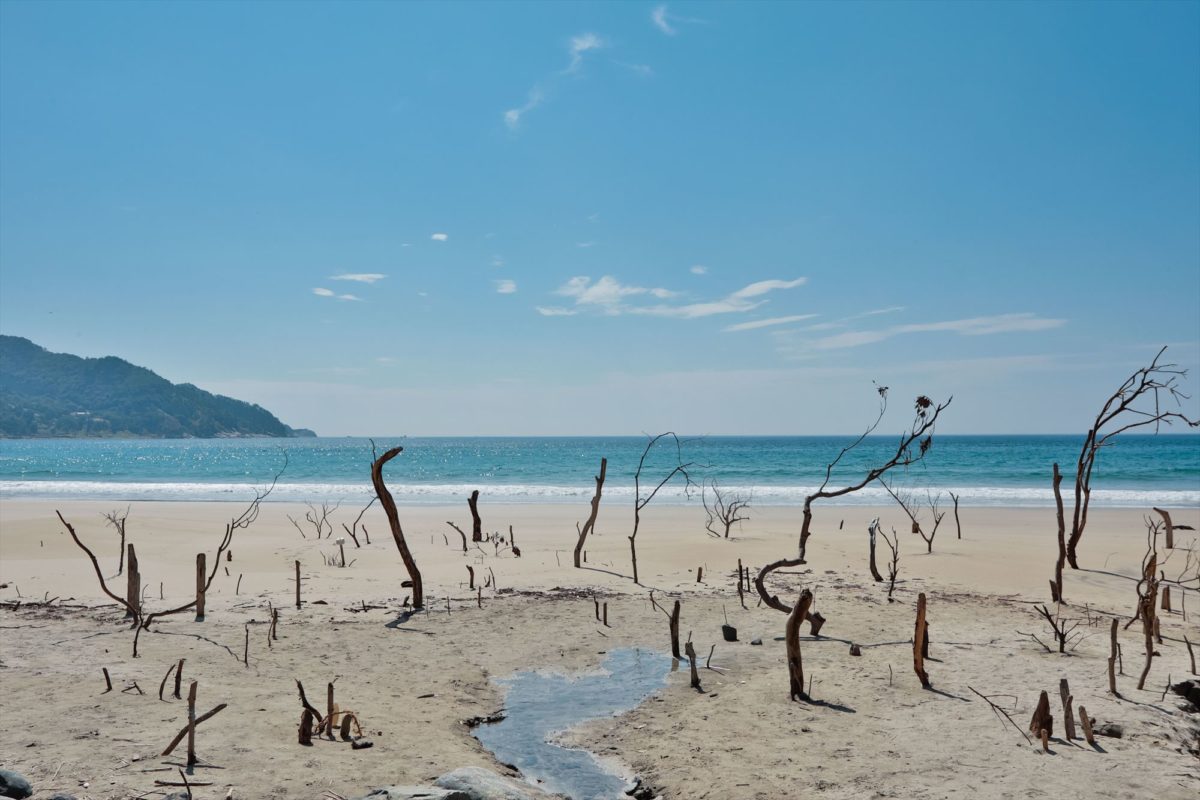 Musical possibilities born from improvisation and chance
At this year's festival, I want to convey the pleasures of musical improvisation and jam sessions, so I decided to hold an event called Korogaru Shi (lit. "Rolling Lyric"). Currently, there are plenty of stimulating live performances and I used to put on shows like that, too. I believe, however, that resonance may be the true "Texture of Life," and so the plan is for the music played at the event to resonate with the art there.
"Rolling Lyric" (Korogaru Shi) is also a play on "rolling stone" (korogaru ishi). There is an English expression: "a rolling stone gathers no moss." The band Rolling Stones did not take that name in a self-effacing way—rather, they saw it as meaning that one who keeps moving will not stagnate.
(Continued in Part II)
A live performance by Salyu in front of White Deer (Oshika). Photo by Reborn-Art Festival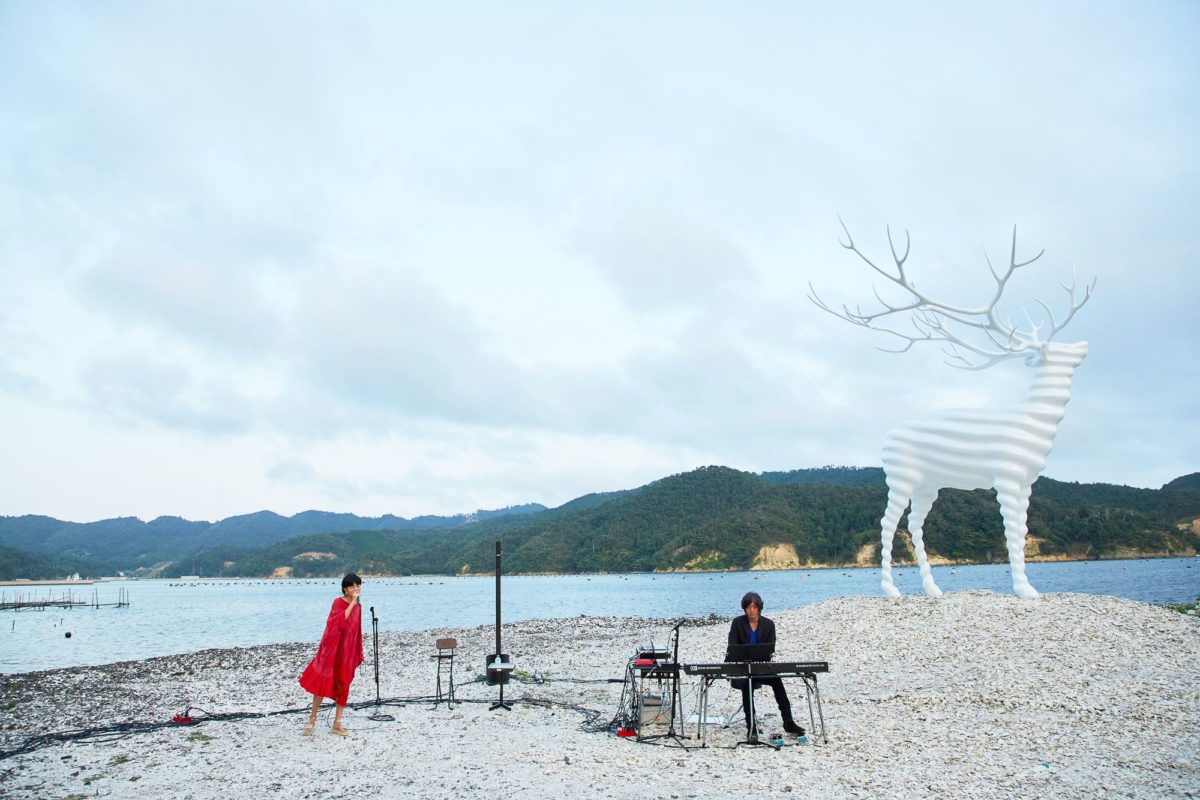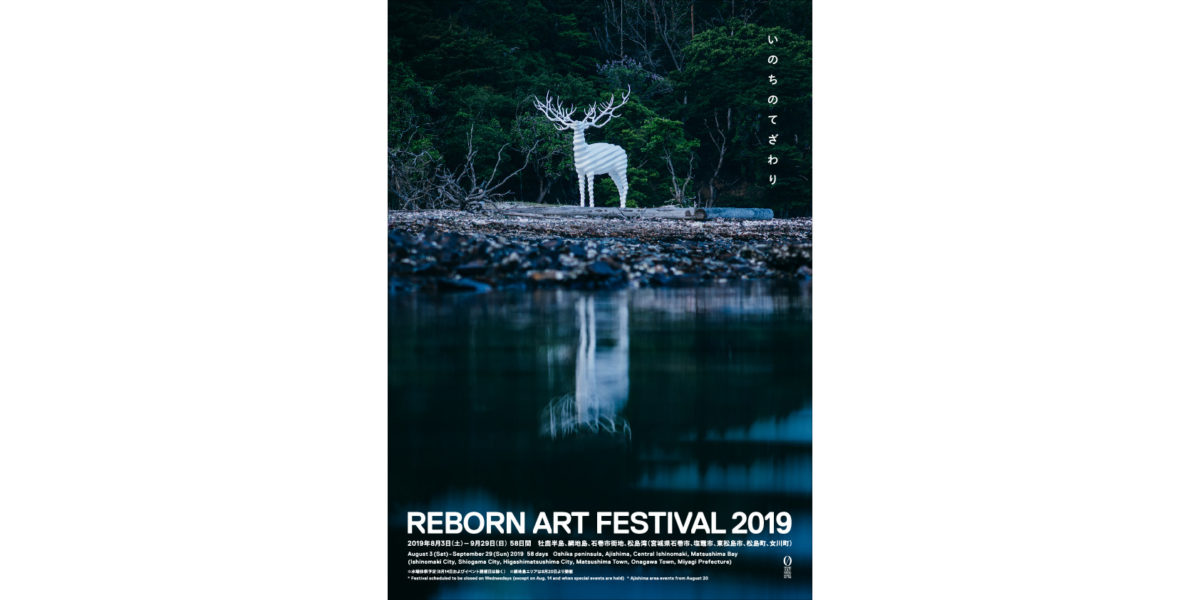 [ RAF 2019 poster by Reborn-Art Festival ]

About Takeshi Kobayashi

Musician and chairperson of AP Bank. Involved in recording and producing for many well-known Japanese musicians. Also involved in composing film scores for movies, such as Swallowtail Butterfly and All About Lily Chou-Chou, both directed by Shunji Iwai. In 2003, he founded the non-profit organization AP Bank. Beginning as a fund for supporting environmental projects, it has since expanded to also host the outdoor music event AP Bank Fes and support disaster-stricken areas such as the region affected by the Great East Japan Earthquake and tsunami. He also operates a farm in Kisarazu, Chiba, and develops projects to help consumers visualize the cycle of food production, distribution, and consumption.

Organizers: Reborn-Art Festival Executive Committee, AP Bank




WEBSITEhttps://www.reborn-art-fes.jp/en/

Sanriku Coast

Tags